We visited Pavel Kotoucek in a fourth grade of elementary school during a program called: "Pain named bullying". It is a pregnant word because it was heard in manifold variations during discussions time and again. Children often spontaneously commented on different model stories and situations, for example "it must have been horrible", "he probably felt horrible" etc.
This time Pavel adjusted his classical program for these younger children. However, the class did not seem to be seriously affected "by the disease called bullying". The children's reactions were spontaneous and very nice, it seems there is a nice atmosphere in the class. However, we realize that also healthy individuals need to hear programes about bullying to become stronger for situations when they will be able to stand up for a potential victim.
And after all – even in this truly pleasant and beautiful group we could see certain differences among children. For example, it is certainly an advantage if somebody studies easily and well. However, his surroundings sometimes needs to cope with his or her distinctness and one can easily hear words like "nerd". Or a child with some disadvantage such as health or social, which can be found everywhere. Will people around him or her be able to accept such a child without unpleasant remarks?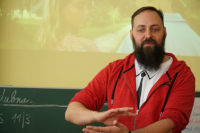 Today's programe was a great adventure for the children. The children evidently felt comfortably and wanted to talk and ask questions all the time. It was not necessary to use any "icebreaker"! Pavel was surrounded by the children also during a break. After the programe the children were queuing to get his signature in their journals. I can imagine the excitement of the children when they learn that Pavel will come to their class again with another programe in the future.

The programe on bullying is one of many that Pavel has been bringing to local schools since 2012. He created deep relationships here and his work has a great support in club's work that has been growing on a fertile land in Letovice. In the afternoon we went to see the club's premises that have been used since last year thanks to extraordinary favor of the town's leadership. They are in a building where the local church of Brotheren Church was established 100 years ago. However, Pavel and his coworkers hope that there premises are only provisional. They had to reduce participation during New Year's Eve celebration for 100 participants! A great number of young people found wonderful support and excellent group of friends here, but not only that: Many attend meetings of church youth with biblical teaching with a great interest, many react to what they hear there.
May God continue to bless Pavel and his colleagues in Letovice during his work and other future plans.
Petr Horacek, the Executive Director of INCZ