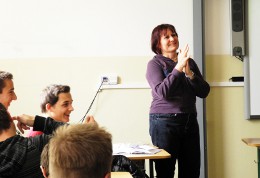 The lecture by Monika Sluneckova at the Secondary School for Agriculture in Ceske Budejovice has proven that a class of last-year students is able to listen to a two-hour lecture on history given by a lecturer who is one generation older than them. Monika focused on the modern history of the state of Israel, which is undoubtedly an exciting topic and its consequences effectively relate to the entire world.
Monika has been lecturing for some years now and the schools in Ceske Budejovice have been welcoming her. She had met the same students before in a lecture on holocaust. This topic raised a lively debate at the end.
For Monika, the history of Israel is more than an academic topic. She has a close relation to this country and its people. Her fascination by the modern history of this national as well as religious community is able to catch the students, too. Monika can therefore share her rich knowledge with the young generation in this South Bohemian region – share enriching information about a nation that led to the creation of the Bible and later all of the Christian civilization.
Petr Horacek, the Executive Director of INCZ