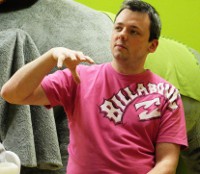 The low-threshold facility called "Vagon" (Wagon), which is located in Hradek nad Nisou, came into existence at the request of the president of the Liberec Region and the mayor of Hradek nad Nisou, Mr. Martin Puta. With our support, Patrik Muller has been giving lectures since 2003 and has been working in a public service company called Majak (Beacon), which is highly appreciated by local schools and public officials. Yet Patrik and his colleagues were surprised not only by the request but also by the received support and technical capacity. The club Vagon actually came into existence in fall 2014, since which time Patrik has been delivering reports showing that the work is going really well.
In December 2014 I attended a regular club evening event with a program. I had received a full description of the place but when I got there, I thought I had arrived in a wrong place: the kindergarten building looked like a squat. However, I was in the club Vagon.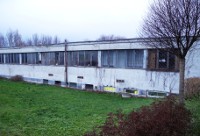 The building is located in an ideal place in the middle of a housing estate where there are a large number of underprivileged families and where the children desperately need to be taken care of in places like this club. Inside there was a group of children sitting round the table playing desk games with one of Patrik's colleagues. They let me join them and no sooner had I comprehended the rules than Patrik came from the adjoining room where he was giving guidance to one of the club members. Other children kept coming and it was obvious that they knew each other and felt comfortable in the place. They were participating in games and Patrik had to handle occasional conflicts sensitively but without compromise. It was also obvious that the children treat him as their "daddy", which is Patrik's role and also a gift he uses whenever interacting with children – in the club, in schools or anywhere else.
Since Christmas was about to come, at the end of the program there was a quiz about what we wanted for Christmas and what we wanted to give to others. At the very end the children decorated gingerbread cookies. When I was leaving Vagon, I could totally understand why the public officials wanted this project to be implemented. Vagon is a place that accepted the children as if they were family.
The club also organizes trips and various events. In summer they set up summer camps. In his report Patrik tells a story about the summer camp he went to with the children: "I was in my car driving through Prague (the capital of Czech Republic) with my 'Vagon group' when one of the boys asked:
'The city we are driving through is Prague?'
My answer was 'yes'.
'I've never been here', he replied.
I was not surprised. Imagine a 15-year-old boy who has never been to the city which is frequently being visited by everyone from our region and which is only 100 km away. Since we are going to go there in fall, I told him not to worry and that we would go there together.
'That's what my dad always told me too, ' he replied."
Petr Horacek, the Executive Director of INCZ