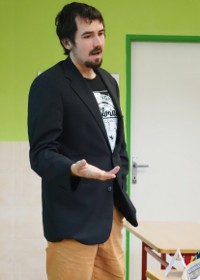 "The Earth planet has been at the doctor's," Petr Kadlec says an illustrative anecdote, "and when all the examinations and test had been done, doctor asks: "And don't you suffer from people?" We find ourselves in the lecture about the sects and the world religions for the 9th grades. Petr tries to point in this humorous way at the constant human reaching for something higher and at the same time awareness of certain insufficiency. These three hours are filled with the relaxed atmosphere and the interactive discussion about what people throughout the world believe.
"There are about 86% believers all over the world", Petr explains, "but there are also some regions almost without any kind of religion" – he shows the deserts and the regions of the eternal ice on the map of the world…. and than there is one other such a small area almost without religion – the small country in the midst of the Europe. You guess right, it is the country of John Huss, the cradle of the Moravian Brethren, our homeland. Petr however adds that in fact almost 80% people in the Czech Republic believe in something transcendental, as other surveys prove.
The lecture goes on in a nice pace from one interesting information to another. The listeners are naturally joined in every key point of the lecture when answering the questions or the small surveys or working in the groups. Petr makes an introduction of all five major world religions. He shows that each of them had ever become throughout the history the cradle of some extreme groups. Similar as today's world is being frightened by various forms of the Islamic terrorism. "But far worst picture of the violent extremist belief were modern atheistic movements responsible for 130 millions murdered during the 20th century," Petr says. Practical presentation of the individual religions makes the lecture very interesting and understandable for young people of these days. All the class develops the discussion about the human searching of the peace and eternity, to which people choose many ways.
Here belongs an important part of the lecture that Petr called: "My story". He speaks here about his own way from not believing through Buddhism to Christianity in the end. This part was here this time too – with one exception – Petr asked me as a guest to tell my own story.
Students can ask any question in the end of the lecture. They write it on the small tickets not having to put their names there. Petr collects them, put them into a cap and than all make a discussion about them. It can bring a deeper understanding the topic or the personal attitudes of the lecturer. The lecture thus brings very balanced possibility to receive new information as well as the space for the free discussion of the lecturer and the students.
Petr Horacek, the Executive Director of INCZ