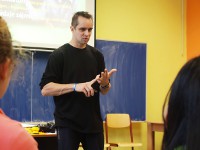 Ivo Neuvirt has been the INCZ Healthy Youth worker at schools in Ostrava for already 11 years. Ivo called himself to be "the man of the shovel" when I met him for the first time. Despite of that his activities affected and still do affect deeply the lives of the students and find a great response among the teachers in the region. Ivo is prepared for his lectures perfectly as for the methodic as well as the materials to be presented. But especially he gives the students himself. The lecture makes a wide frame for the discussion as well as the encouragement. There is enough time to laugh together but three clear rules have always to be observed: 1. only one can speak at one time, 2. each one can express his own opinion, 3. nobody shall be laughed for his opinions. There is also biblical verse included into all his lectures which relates to the main message of the lecture.
I visited the lectures about "The Decisions" and "The Money".
As for the first topic "The Decisions" – Ivo asks students to write down on the piece of paper five values they regard to be the most important and precious for their lives. They have to put aside one by one of these and finally the only one of them is left: the one they would never give up, the one that stands to be the most important for them. The game runs anonymously. It brings very interesting moments – students should experience strongly what is important for them and how to decide. The debate continues with the stories of people who find themselves in the really border-situations. Students realize that there are moments of the very difficult decisions in the man's life when not only one decision or solution would be the only right.
And also the topic of "The Money" makes a good frame for many discussions, many model situations and talks about what is really important in one's life. Ivo shows the results of a survey in one class where almost all students presented the family and the relationships to be their most important life values. " This survey had exactly the same results in other three classes," Ivo explains. The lecture touches the moments when people have to decide between a more modest way of lifestyle with enough time for the family on one side and the opposite way of life on the other side. We can talk about the danger of debts and the responsible planning of the family economics. The attention is paid also to the support for the poor and needy in the world through the various charity projects in the end of the lecture. This belongs to the management of money and the right priorities setting in lives of young people as well.
Petr Horacek, the Executive Director of INCZ