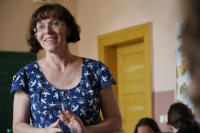 Today, during the visit of lector Jitka Kultová, we found ourselves in the middle of the discussion with ninth graders. They already absolved the basic program about sensitive life questions with Jitka a week ago.
The two-hour discussion with students always follows the basic program, that Jitka Kultová has been bringing to school in the Pilsen region for more than ten years. She talks to students about the development of the unborn human embryo, its conception, partners responsibility and decision-making, especially when it comes to acceptance of pregnancy. Jitka's message addresses young people with deep and personal questions.
At the same time, it is amazing to see that schools and students accept this topic with gratitude, even though the majority trends of the modern world bring other perspectives on these topics. Jitka does not condemn or confronts anyone during the program, but she brings with love and enthusiasm a healthy and highly qualified view on the development of a human being. A lot of human souls deeply consent with this message.
During today's discussion, Jitka no longer brought any new topics to the students. Today, there was a space for feedback, reflection and nice and pleasant time to discuss very personal questions through the approach, Jitka creates.
What was the most powerful experience from the program for you?
How did you understand each part of discussion?
In some cases students respond one by one – if they want to answer, other times, Jitka addresses personally one of them with  a sensitively targeted question. During other parts of the discussion, students work collectively over given topic.
Today's class seems to be quiet, but not due to lack of interest, or perhaps due to opposition to the subject. They just need encouragement to discuss, but they engage willingly and nicely.
At the end of the discussion comes the moment for the final question: What would you do – in case of an unwanted and unexpected pregnancy? Lot of answers are plain, simple – both boys and girls respond without any hesitation that they will keep the baby "simply because it is mine". How wonderful it is to hear that from teenagers. "And the abortion would mentally affect my partner" adds one of the boys.
At the end Jitka wishes youngsters to not have to deal with such traumatic situations they just talked about in their lives.
It was beautifully spent two hours time  in the nice discussion atmosphere, acceptance and appreciation of the expressed voices. We would like to see all young people in the country to hear and experience such discussion.
Petr Horacek, the Executive Director of INCZ