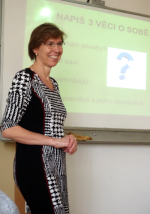 "How many true friends can I have?"
This and other questions are being asked by the lecturer Petra Stranska at the beginning of the program called Friendship. The ninth graders are seriously thinking about their answers. One? Ten? Twenty? Four hundred?
"You may be surprised, but the true friends could be counted on the fingers of one hand…"
Although it is already the last lesson for the ninth grade pupils and outside there is a nice, sunny day in autumnal colours, they let themselves be drawn into the debate on friendly relationships.
How well do you know each other in the classroom? We are looking for an answer to this question during the introductive warm-up game. The results are encouraging. Not only the pupils know each other in such a way that they are able to guess relatively distinctly, which statements about their classmates are untrue and which are true, but the game very nonviolently draws everyone into our today's topic.
Petra, limited by 45 minutes, is not afraid to go right to the heart of the problem and certainly does not avoid more difficult questions. She opens up deeper themes with pleasure. Is it better to have friends physically or on the Internet?
"On the Internet." And why? "Because they don't know me so well." a brave young man responds. "I have a very good girlfriend on the Internet… I have never met her personally, but I like to chat with her because I can confide to her with everything. I guess I'll never see her face to face because she lives on the other side of the world." And why don't you open your heart to some other girlfriend you have here on hand? "Well, the girlfriends I have here do not always have time and do not always are glad to listen to me." one nice girl confides to me.
At the very end of the lesson we are touching the problem of forgiveness. Is it possible to have a friendship without forgiveness? And what is easier: forgive to somebody or ask someone else for forgiveness?
The pupils are thinking and then start talking one over the other… unfortunately, the school bells started to ring announcing the end of this class. The promisingly begun discussion ends by the first lesson of the program. The continuation will be next week. Children definitely have something to ponder over.
I pray, together with the lecturer that the next follow-up lecture will be an opportunity to acquaint the children with the testimony about God and the Lord Jesus Christ, the best friend who will never disappoint them.
Lenka Stankova, the Healthy Youth Program Coordinator