Partnerships: Each of you has the highest value
Michal has been lecturing children a good number of years already. He has been returning to the same classes regularly and systematically, each time with the different program. Children know him and really look forward to his programs. Already as we walk through the school building, they are enthusiastically greeting and shouting: "You are coming over today, aren't you? That's great!"
There were 14 seven-graders in the classroom waiting for us. Boys at first glance looked rough, girls unapproachable. Sure, it belongs to their age. They can't lose face in front of a bunch, they keep their countenance, and they don't let themselves be confused. Though, immediately after arriving in the classroom, one brave boy tells Michal, in front of all, that he has just been left by a girl and that he is sad. Michal nods understandingly: "And how long were you dating?" "One month…" Perhaps trivial at the first glance, but, in the classroom, nobody laughs at unhappy Romeo. There is a pleasant friendly atmosphere in the classroom. And when the "cool" boys are supposed to answer the question: "What qualities do you value on your future girlfriend?" the most often answer is: "That she is nice to me…" Likewise, girls, at first sight inaccessible and distant, want their chosen to be kind and like them.When Michal talks, everyone listens intently. He tells stories that show simple but true principles that apply to working relationships, not just partnerships, but friendly and generally interpersonal. He emphasizes that in each of us there is a deep-rooted need to love and be loved. Nobody really wants to by alone. But: why people so often break up? Children think hard and look for the answers to these intriguing questions themselves. They can realize that love is not a matter of course, that we have to take care of relationships and that we have to count on the fact that the closest ones can also hurt us the most.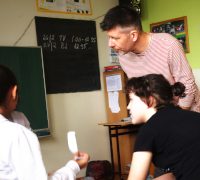 The crucial moment comes when Michal shares the story of his friend, who after ten years of promiscuous life discovered that he wanted "the right girl for life". A friend asks where he would find such a girl, but the real anti-question is: "What can you offer her? Do you think such a girl would like to be with a boy like you?"
And here we come to the key point of the program. Michal urges the children: "Remember, each of you has the highest value. Protect it. You're not here for everyone. "
I firmly believe that at least this thought staggered deep in the children's memory and that they will at least remember some points of this program at the right time in their lives.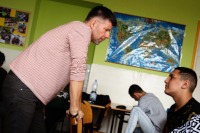 Lenka Stankova, the Healthy Youth Program Coordinator