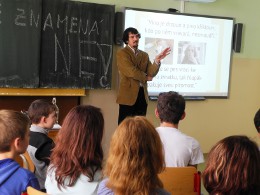 Petr Kadlec has been working in program Healthy Youth in Ceska Trebova area since August 2012. His work in elementary and grammar schools has been continually getting more and more accepted. I visited his two lectures for the 7 th grade of an elementary school near Lanskroun, where Petr sometimes comes. It was obvious that teachers were very pleased with his performance.
The main topic of his lectures was "Anguish called bullying"and "Do you respect your body or misuse it? ". It is the typical focus of Peter´s service. One area of his topics is focused on human relationships, the price and the virtue of personality. The second area solves risks of addiction or modern traps (media, internet).
Petr starts his lectures with his personal introduction creating a very nice bridge between him and the class. He continues in the same spirit during his lecture, sometimes being interrupted by pupil´s quite mature questions and complementary comments. No wonder, that pupils who had attended his lectures immediately and urgently ask their teachers for inviting "the man who performed the lecture" back.
Petr includes stories of young people whom he knows right from the first hand and does not hesitate to speak about his life – for example how he took part in bullying while he was at Secondary School. The personal input together with the professional preparation makes children to be really and obviously touched by the message of his lectures.
At the end of his lectures Peter shows five quotations concerning the topic. Children do not know authors of these quotations and vote which they like the most. "Deal with others by the same way like you want others to deal with you" – the old biblical wisdom is the winner just like many times before.
Children ask many questions there is hardly time for all of them. "Why do you do this work?" a pupil is asking and Peter again is giving them insight into his own life and the way of his thinking. Obviously, Petr´s input touched the children.
Petr Horacek, the Executive Director of INCZ