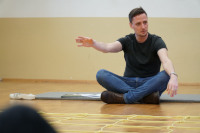 Class climate
Since 2003, we have supported gradually five lecturers in Liberec. Among them were for many years the distinctive figures of Patrick Miller and Roman Hammer.  Both of these pioneers handed over their art and experience to other generations of lecturers before their withdrawal to another service. One of them is Jan Novak. During his four years of service, he has become an experienced lecturer and is currently also involved in the special adaptation program called ' The class climate' we have visited.
The program takes 4 hours and is very often held in the Lighthouse's own club areas of Maják(Lighthouse). But this time we, with John = Honza – how he presents himself to children – set out to watch this program in the sixth grade of elementary school in Liberec.
Twenty-three children gathered here in the "mirror hall", which usually serves the gymnastic activities. The hall provided an informal environment, with children and Honza sitting on their mats in a semicircle.
Jan in his program guides children to several group games where they have to cooperate on a certain difficult task. Honza explained to me, that he has more kinds of activities available, but always chooses them according to the particular situation of the class. The class in which we found ourselves was pleasant, the children cooperated very well. Honza chose for them rather difficult tasks and did not make them any easier. First, the children split into quaternions and only one of them went to pick up the assignment. Here was the first point where there came to a fuss, because the assignment was deliberately somewhat mysterious. The group got a plastic frame with parts of puzzle. Most of the groups began to put the puzzles into a rectangular frame, but in the assignment there was given a "cube"! The groups found out that they were going in the wrong direction, began to wonder how to compose the cube, and could not manage it. A drop of oil is poured into this atmosphere by Jan, when he unwittingly declares, "But it's not that hard, the pupils in the first and second class managed it."
Eventually the cubes will sooner or later appear in the hands of most groups. After each such game comes reflection. How did they feel? How did they work together? Were they angry at each other? Jan communicates most important things to children in the form of questions. They themselves will discover what is important. For example: yes, it is true that some cubes were composed by pupils of the first grades – but what does it matter? Who said we must be "champions" that we must be better than others?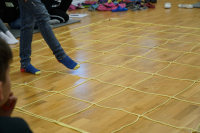 Before the last game, where the children were going through the "minefield," Jan declared, "Every one of you will make a mistake." In front of the children there was a special net that the army uses to identify minefields… it was exciting. Sometimes I cheered the teams in a low voice! The cooperation of the team was very important. It was very easy to get angry at the other. Really everyone made a mistake during the game. Eventually the whole class went through the "minefield" triumphantly.
And Jan reminds the children: making a mistake is not a disaster. Everybody prospers well in something different, and it's so good.
The four-hour program shows the children the important moments in life in a clear and gentle way. For example, do not lose your head, communicate with others, do not let push yourself into striving for performance. If you make a mistake, you're still as valuable as before.
These were four hours spent in a very well way; Honza introduced the children the values that transcend us ourselves. Your life is more valuable than your current performance, more than what your surroundings think of you.
Petr Horacek, the Executive Director of INCZ