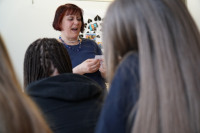 Monika has been working at schools here, in region of Ceske Budejovice , already for ten years, with the support of NMP since 2013. Her most favourite programs often touch on the Jewish issues, in which Monika has a deep knowledge and to which she has a hearty relationship. Her deep relationship with God is reflected in everything she says and does among the children.
This time we went with her to see the program called " The centuries-old  roots " among the ninth grade students. It is a special program generated in connection with the centenary of the foundation of our Czech Republic. It seeks to portray the most important ideals upon which our nation grew up, referring to the idea of the first Czech President Masaryk: "The states are maintained by ideals, which they were born of." Masaryk is a respected figure in modern Czech history. Although he himself did not become a professing Christian, the Gospel played an important role in his thinking and ideals.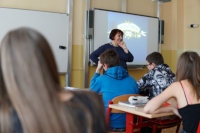 At the beginning of the program, Monika discusses with children about what our nation has achieved and through what it became significant. It's a nice time. The reminder of areas in which the Czechs excelled seems to function like a sudden light and hope that have penetrated into a somewhat dark classroom. Children are willing to join the discussion. But to some questions from our history cannot be found the right answers neither in groups. Yes, today's generation is in need of this program.
It is refreshing to hear how the students in today's class speak with respect about Cyril and Methodius, who brought forward the Bible to our nation, or about Hus and Komenský, the great servants of God in our history.
In a small group game, Monika shows how important it is when one generation passes on the second values they value. Ten volunteers stand in line, close their eyes and lean on their shoulders of those standing in front of them. Monika then asks two of them to abandon the line, and now the remaining eight students have to lean on shoulders of students standing in front of them. "It's harder for you, who have lost those falling out before you, isn't it?" says Monika. "This is the same when people somehow neglect to pass on important life values to their children."
The program called "The centuries-old roots "helps young people to be aware of the positive values that have shaped us, as the Czech nation. Much of these values are also the key truths of Scripture. I had the feeling that the pupils also perceive the positive contribution the program had for them, and I also felt great during the program.
Petr Horacek, the Executive Director of INCZ