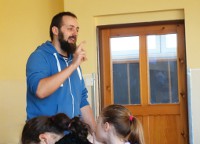 Topic of the session: Bullying and the dangers of the Internet
Pavel Kotoucek started giving his lectures in Letovice and nearby "Green Meadow" in 2012. His initial effort was first limited by schools that did not trust him. However, he is currently well-known by the majority of local and nearby prevention specialists focusing on primary prevention. Pavel is often contacted by many other prevention specialists asking him to give lectures in their schools.
The lectures for 6th grade pupils provided me with the same experience as the previous ones: Pavel was given credit for his work by the school prevention specialist. She also expressed gratitude for the contribution of the foundation. Pavel was getting on very well with the children. If you are familiar with this age group, you can imagine that 6th graders can give you a hard time. However, Pavel can lead the discussion in a pleasant way. He was praising and encouraging the pupils who were being well-mannered. They were all ears, concentrating on Pavel's talk. They were eager to join the discussion. The topic of the discussion was collective bullying, pathological behavior of individuals and other aspects of bullying. It is apparent that collective and family relationships are a topic that children are most interested in and concerned with.
Since Pavel works in the schools very often, he was being greeted by many children as if he was an old friend of theirs. They also like the activities of his organization called Elim, which is very popular among young people and their parents. Elim organizes leisure-time activities like regular children's clubs, weekend events and the summer festival called LetFest.
Petr Horacek, the Executive Director of INCZ