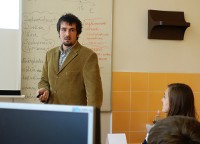 I accompanied Petr Kadlec when he was giving two lectures on two different topics. They were held at gymnasium where Petr acquired a great reputation after working there as a lector for three years. There was one thing both of the lectures had in common: as soon as they were over, Petr received spontaneous applause. I was able to record the burst of applause at the end of the second lecture although I first had to turn on the camera and select the video mode. After the first one, a great cheer went up from the students—as if the audience was calling for an encore.
As a representative of the supporting organization, I enjoyed the feeling too—I was greeted with the applause as well when Petr told the students what kind of organization I represent.
"Relationships" is the topic of Petr's lecture that he considers as the best one. Firstly because it has not been a long time since he had to deal with this burning issue himself. Secondly because it is fundamental to young people. The lecture comes to a climax when Petr openly tells his personal story. "I was seeing girls thinking only about the whipped cream." He compares sex to the whipped cream, which he considers the best part of a cake. Nobody uses whipped cream as the first ingredient when making a cake. Unfortunately, many people get trapped when they start their relationship this way.
The lecture lasts two hours and includes two discussions in which the students, who are divided into small groups, discuss certain questions and express their own views.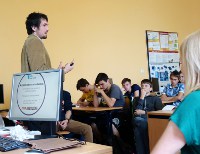 "The holocaust" is a topic that Petr prepared himself at home using various materials—He conceded that during his preparation, he could not help crying spontaneously several times. During the lecture, Petr talks about a hundred million pogroms occurring last century, which was regarded as "developed". He focuses on sources and initial phases of these catastrophic events that had a destructive impact on the world's population. He also points out current signals indicating that there are a lot of prejudices, segregation and hatred.
At a certain moment, Petr distributes ten period photographs to the students. The students are supposed to decide of what nationality were the people in their pictures and whether they were heroes, victims of violence or instigators of violence.
When Petr reveals their true identities and personal stories, we cannot believe that: a beautiful woman that we thought was a Jewish victim was actually a German who was aspiring to become an actress. However, she later became one of the cruellest prison guards in concentration camps. On the contrary, a man that we thought was a violent German was of Czech origin. He was a very brave man having communist belief who saved about one thousand Jewish children from death right before Gestapo's eyes.
We can see that people cannot be judged by their appearance. Petr says: "Do not feel bad about misjudging the people, I would misjudge them too." Yes, we cannot judge people by the first impression, appearance, race or their opinions.
Petr's local church appreciates highly his work since apparently he became warm welcomed in the schools of the whole region. Both teachers and students know, that this young believer has something high important to say!
Petr Horacek, the Executive Director of INCZ